Ceramic Tiles is one space which we have been tracking for many years now. In the past, we have misjudged the potential of branded players and missed some multi-baggers like Kajaria Ceramics and Somany. (blog post from 2013)
During 2015, we studied a company called 'Asian Granito'. With Rs 850 Cr. in annual sales AGL is the 4th largest in India's Rs 24,000 Cr. ceramic tile industry. It was available at Rs 160 a share and a market cap of Rs 360 Cr. i.e. 0.45 times sales vs. 2-3x for Kajaria and Somany. Despite throwaway valuations, we gave it a pass owing to some concerns on the business and management quality.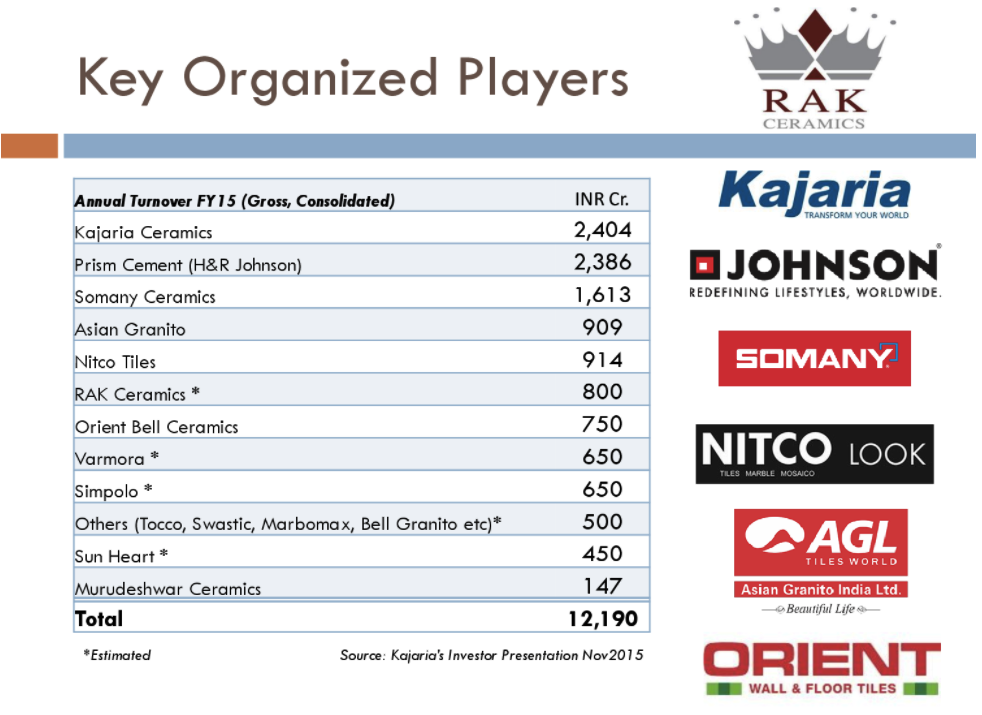 We again looked at it when we learned Mr. Tapan Jena, a professional with 27+ years of experience in the building materials industry had joined AGL as CEO. In his previous assignment, he was Chief Operating Officer at Somany Ceramics. At AGL his mandate was to improve profitability following the same strategy he had at Somany. AGL did a conference call where Mr. Jena laid out the roadmap of where he aimed to take AGL by FY20 and how he planned to achieve that. At first, it all sounded too good to be true, but since it was coming from a veteran we paid some attention.
In short, it involved transforming AGL into an aspirational brand from an entry-level brand/B2B business by improving quality of distribution as well as increasing dealer network by 200% (an expertise of Mr. Jena), outsourcing manufacturing of commodity tiles, improving share of value-add tiles like vitrified and grow faster than industry at 15% CAGR while improving operating margins.
During Dec'15 we met him in Delhi at an industry exhibition and had a long discussion to gauge how confident he was to bring about those changes in the company. We were also impressed with the newly launched range of innovative products displayed there.
During Jan'16, we went to Ahmedabad to visit their largest plant spread over 80 acres, they had installed latest 8-color digital printing machines and widest kiln from Italy's SACMI, the first of its kind in India. We also spent an entire day meeting one-on-one with Mr. Jena, promoters and senior management. Meanwhile, the stock was hovering around Rs 180.
The research also involved a lot of scuttlebutt (primary research) in various geographies to validate thesis and also understand the quality of products and competitive landscape through real estate developers, dealer, and retail customer feedback.
While we were doing all this due-diligence, the market had started melting down and by 14th Feb  2016, the stock was down 35% to Rs 116 implying a market cap of merely Rs 265 Cr. (0.3x sales). By then we were convinced we had found an interesting opportunity with very little downside and a potential 3-5 times upside. We decided its time to act and we added the stock to our 'Stock Ideas' portfolio.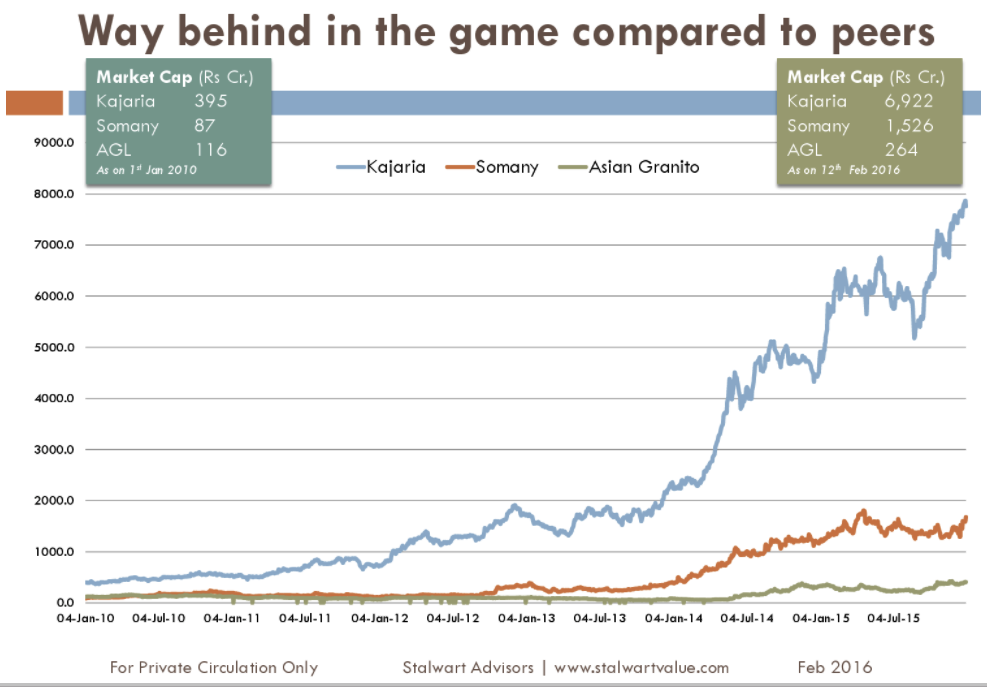 We had made it a point to write in our investment thesis "The catalyst in this thesis is Mr. Tapan Jena and for whatever reason, if he leaves, we too will exit immediately".

Little did we know at the time of writing, it will become reality the very same day. At around 5 pm while we were sipping our evening tea feeling happy about the newly added position, AGL made an exchange filing stating Mr. Jena has resigned.
After working on an idea for months being convinced that it is a 3-5 bagger opportunity with hardly any downside risks, you hear such news within hours of buying the stock, what do you do? Whether to stick to the process or chase returns was the dilemma we faced.
We decided to stick to the process and exited the stock very next day. Markets weren't bothered much about the news and stock opened flat giving us exit at the entry price; all negatives were already factored in at that price.
Over next 18 months, the stock price zoomed 430% to Rs 500. Do we regret it? At times there will be an opportunity cost of sticking to process and we very well understand that. We did what we thought was appropriate at that time. Judging quality of that decision based on outcome may not be the right way, for all you know the stock could have been at 50 today. Though we do wish Mr. Jena had stayed a little longer 😉
Initiating Coverage Report on AGL can be read here:
ICR on AGL
Research Reports (ICR) on many other stock ideas are available on Guest Account (free):  Sign up Here 
Disclaimer: This is not a recommendation to Buy/Sell. Read complete  disclaimer here .