My April'19 Article Written For Financial Express
While Nifty is at a lifetime high, the average fall across 3,000 traded stocks is still 40-50% from their 2018 highs. Smaller the market capitalization bigger has been the bashing its stock has taken. Though there is nothing unusual about it – small companies swing wildly in both directions depending upon market sentiment; after all, they are thinly traded with low free-float (non-promoter holding, available for trade) so the rise in volumes can lead to high impact.
The onlookers and investors who entered markets recently might have concluded by now that it is so safe to invest in large caps which not only did not fall much in the correction but now when markets are improving they are also participating on the up move. While purely on the basis of this divergence seen between select large caps and broader markets during 2018, the observation cannot be dismissed. However, it is nothing but an outcome of recency bias.
Most of these so-called high-quality large caps are trading at ridiculous valuations from which it is very unlikely for investors to make reasonable returns even over the next 3-5 years.  The real opportunity lies in broader markets and emerging companies, where once again valuations have turned reasonable (if not cheap like 2013) and one could at least expect those stocks to mimic earnings growth without the risk of any meaningful de-rating.
In previous occasions when we had such a steep fall in small caps in such a short period of time, the reversal too had been swift. Also, the returns over following one and three year periods have been above average.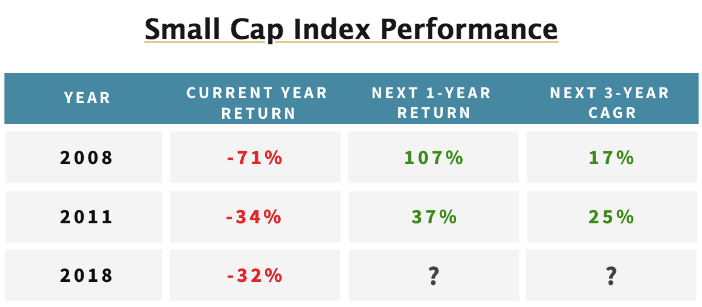 Continue reading here: https://www.financialexpress.com/market/cafeinvest/nifty-at-record-high-dont-get-carried-away-real-opportunity-lies-in-smallcap-emerging-companies-stocks/1541298/